Blown U3 IC - Connecting Water Pump
Hi all,
I have been working on a largish printer for the best part of a year now and just come to set up and configure the electronics side of things.
I managed to initially get the Duet 2 working with movement and successful homing of the axis and all my heaters successfully tuned - ready to go! So I thought..
My hot end is a chimera+ dual nozzle, and water cooled. When I initially set up the machine the water cooling pump was not installed so I could still disassemble the hot end side of things easily.
On connecting the pump (which is a 12V 0.4A rated pump, I am running at 24V V_IN) the pump sprung to life circulating water. The pump was quite warm (likely due to the 24V as opposed to the 12V rating) but worked well for an hour or so until suddenly it stopped circulating water. I checked the fuse for the fans (pump is connected to the fan output) and no continuity was detected. At this point I could no longer connect to the board via USB or Ethernet and noticed the 3.3V and 5V LEDs were out.
I replaced the fuse, but no luck thinking the issue goes further, I pulled the board out of the printer for inspection and found the IC U3 has a hole in the corner - I have attached a photo.
I would be interested to hear anybody's thoughts on this, especially on whether it is possible to repair, but I fear the issue goes further and other damage has been done to the board.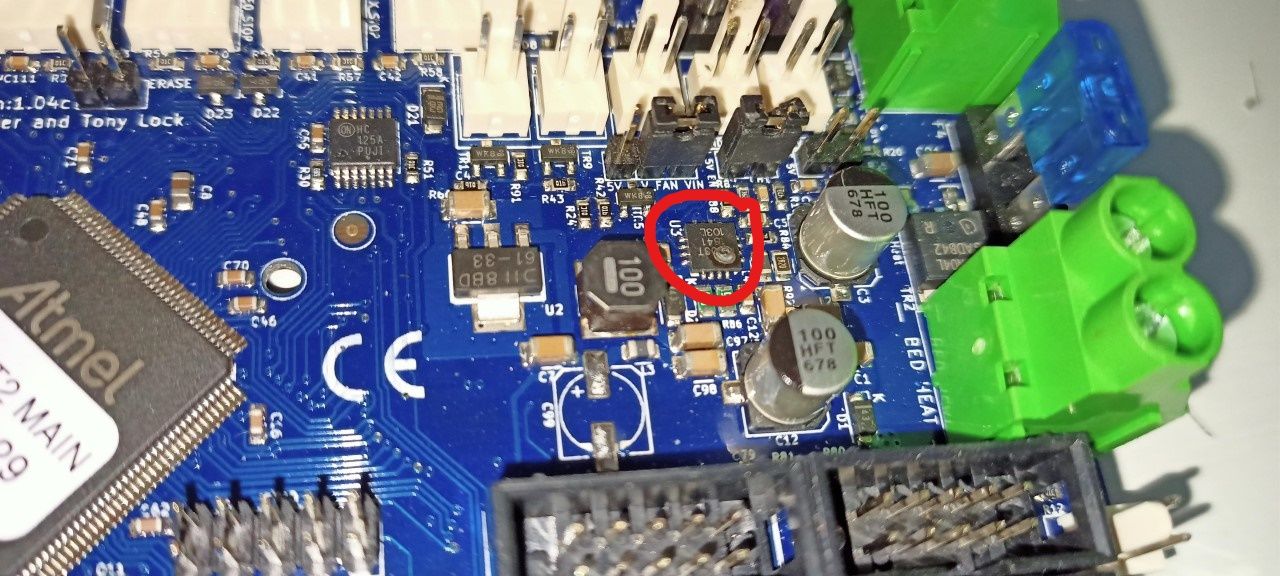 posted in Duet Hardware and wiring