RE: Mini 5+ Eth./Win10/can't connect to DWC
And what IP address does your computer have? Is it in the same subnet as 120.20.20.x?
Oh, it was not in the same subnet indeed.
Autoconfiguration IPv4 Address. . : 169.254.163.65

I changed the IP of the board as follows:
M552 S0
Network stopped
ok
M552 S1 P169.254.163.66
ok
Ethernet running, IP address = 169.254.163.66
M552
Ethernet is enabled, configured IP address: 169.254.163.66, actual IP address: 169.254.163.66
ok

and now it works: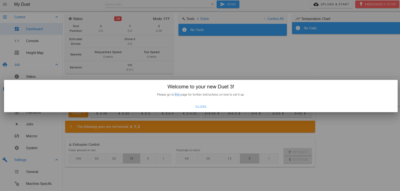 Updating the firmware on the mini5 is a bit different over USB.
https://duet3d.dozuki.com/Wiki/Installing_and_Updating_Firmware#Section_Duet_3_Mini_5_WiFi_Ethernet
Oh great, thanks, I had missed it.
Thanks a lot for your help
posted in Using Duet Controllers