RE: Utilize unused I/O pins to jog CNC-spindel
Here is a piece of software as DC42 suggested. Thanks! An Arduino Nano is connected to the Panel-Due serial interface. Hidden in a box it works to move the tool head of my CNC-Mill controlled by Duet2 Ethernet.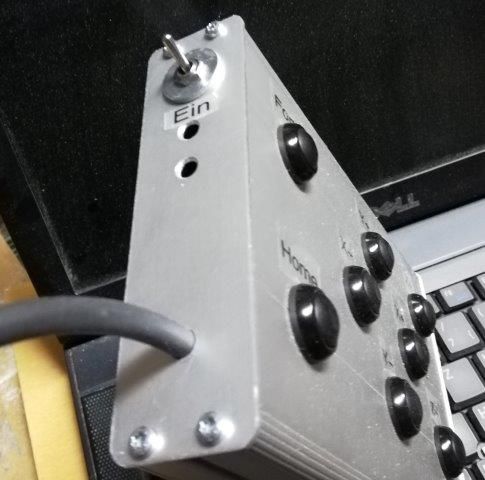 Arduino is 5 V, Duet2 interface is 3.3V. Serial connection is done via 3,3 V to 5 V level shifter!
This line is added to my config.g : M575 P1 B57600 S0 to set communication without CRC check.
Push button for directions, continuous move(Fortl.), homing and a switch to start jog mode in general are connected to the input pins of Arduino.
Pushing a "direction button" moves the head a step with the configured distance. Pressing the "Fortl.(Continuous)" button simultaneous with a "direction button" moves the tool head continuously as long as both buttons are down.
A "Home" button does the expected job.
Values for distance, feed rate and timers can be modified to match software to your machine.
A limitation at my machine: Continuous moves are singel steps fired continuously by Arduino. First steps fired are slowed down at the end a little bit until enough commands are buffered. Movement sounds a bit strange.
I transferred this code is to Arduino via "B4R" form Anywhere Software. Download of B4R is free.
B4RNanoJog.b4r.txt
B4R needs extension ".B4R". Please remove extension ".TXT" from filname.
Enjoy.
Hermann
posted in Firmware wishlist