RE: Pre crimped cables
@markuskruse I completely agree with you. Crimping Cables is the biggest pain in the ass. The reason though is because you literally need three hands. It wasn't till I learned this that I was able to do it.
Get a set of these:
https://www.amazon.com/ProsKit-900-015-Helping-Hands-Soldering/dp/B002PIA6Z4
or you can just do what I do and use an alligator clip.
Here are the steps I use with pictures.
You will need a set of helping hands or an alligator clip, wire strippers, needle nose pliers, and a crimping tool.
Position the alligator clip or helping hand vertically:

Put the connector in the alligator clip with the flaps facing up like this:

Strip 2mm from the end of the wire:

Put the wire in the connector so the sheathing is in the first two flaps and the bare wire is in the second two:

Take a pair of needle nose pliers and squeeze the first two flaps so that they are gripping the sheathing, but are not fully closed. You want them to hold the connector to the wire while you put it in your crimping tool:

It should look like this: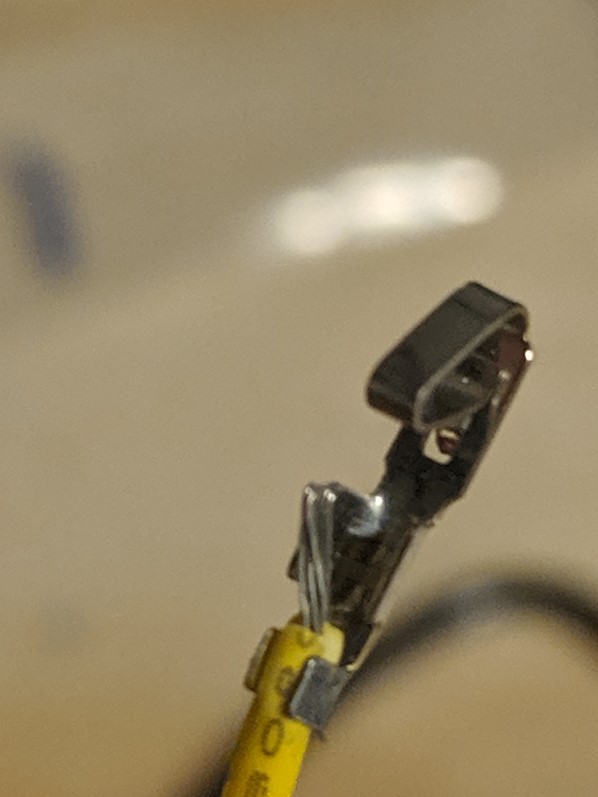 Put the connector in your crimping tool so that the flaps are facing into grove and are 90 degrees to the jaws like this:

Squeeze your crimping tool as tight as it will go:

If done correctly it should look like this:

I had to use this method a few dozen times before I got it down. Also I would say I am successful only about 90% of the time with this method. Do not get discouraged.
posted in Duet Hardware and wiring