RE: Configuring 12864 LCD on Maestro?
Hi, First post here, I thought that may help you guys out a bit...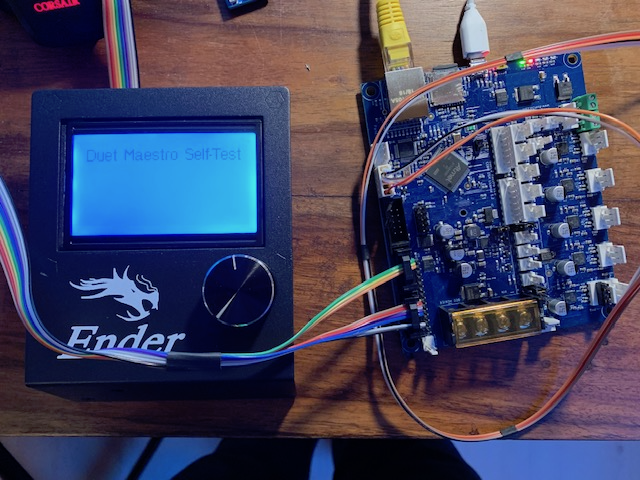 If anyone else wants a simple clean way to create a single ribbon cable which does not involve dupont connectors: You can easily crimp yourself a cable, just get yourself some connectors (like this one, no affiliation with sparkfun). You can either reuse the existing cable or, simpler, get some rainbow ribbon cable which allows you to follow this color scheme:


All connectors as seen from the top, i.e. the order in which the pins are on the connectors
Crimp the cable on the LCD side with all wires, if using a rainbow ribbon align the marker (small triangle) with the brown wire so that the colors match up the illustration. Carefully cut the ribbon after two wires, in the center and finally just before the outer two wires. For the EXP1 connector align the first two and last two wires identical to their position on the LCD side. Take the second three wire pair and align it flipped over with the first wires. The top "bridge" of the connector has some indentations which helps with the proper alignment. You should have three remaining wires, these go into the exp2 connector, again flipped over. make sure to skip the first two positions and you should be fine.
Happy crimping!
--Edit--
Configuration when using this wiring to have the wheel inputs properly working:
M918 P1 E-4
posted in Duet Hardware and wiring