Hi Everyone! I just bought a Duet WiFi to power my DIY corexy
Hello Everyone,
Fresh member, first post
Guess I'll do a short intro!
My 3D adventure began somewhere second half last year where I got myself a CR10 S PRO.
I quickly started upgrading this machine adding a bltouch, Z braces, Z rods sync, linear X rail, custom direct drive extruder etc. (Link to a video of the direct extruder: Click on me)
After hitting speed limitations due to the bed moving for the Y and also wanting to print bigger than 300x300
I stumbled upon CoreXY machines and decided to try and build one.
I got a frame together, added rails and tested the Z movement yesterday!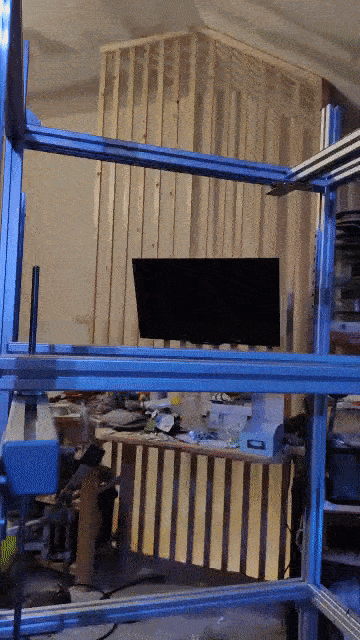 Since I've got good parts (meanwell 24v power supply, hotend etc.) on the CR10 S PRO I'll be taking that one apart for parts.
I'll also be using its heated bed for now since I want to cut costs for now and think about what kind of bed I want.
Eventually I'm aiming at 500x500x500 but I'll see how close I can get. (the frame is 3030 60cm on the 4 sides inside)
The fun part
I decided to get a Duet WiFi to power my creation since I read good things about it, liked the community and want to support Duet3D. You guys are doing great things!
I hope my Duet arrives tomorrow and hope to have it hooked up for testing somewhere the next couple of weeks.
I've read some documentation on configurating it but for a newbie it looks daunting! So I'll probably pop up here and there with questions on how I'm supposed to get it working

I look forward to being part of this community!
posted in My Duet controlled machine